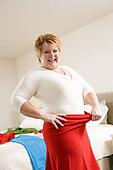 More good news to report ...
As week two has come to an end with focusing on the principles of the law of attraction to lose weight, I stepped on the scales this morning with great expectation. To my joy, I am down another 4 pounds. That makes my total 9 pounds so far.
I've given up calorie counting and carb counting. Instead I've decided to focus on the statement, "I'm a healthy eater." and "It's amazing how good this tastes."
And of course, I'm looking and commenting on my rocking hot body hanging above my computer.
I'm feeling good.
Sherry